PERSONAL FINANCE
Why Advice Matters
---
Going it alone can be difficult. Learn how a Financial Advisor can work with you to build a wealth plan that helps you reach your goals.
---
We all have goals—and many are linked to our finances, from paying for higher education, to meeting health care needs, to saving for retirement. Trying to make investment decisions while juggling all these financial goals on your own can be overwhelming and time consuming. Working with a Financial Advisor can help alleviate these stresses. They have the experience to create and implement a wealth plan based on your specific goals and circumstances.
How a Financial Advisor Can Help
Many investors turn to professionals for guidance on their investments. Nearly six in 10 (57%) of high-net-worth investors in the U.S. currently work with a financial professional, according to a Morgan Stanley survey. These investors are most interested in getting guidance on retirement income (87%), asset allocation (87%), market analysis (87%) and changes in tax policy (80%).1 Many also want help aligning their portfolio with their values (75%), sticking with their financial plan (73%), planning for long-term care (73%) and estate planning (68%).1
Managing your finances is more than just making investment decisions. It begins with having a thorough understanding of your situation–including expenses, investments, aspirations and family dynamics, as well as your goals. By working with a Financial Advisor, you can determine and implement an asset allocation strategy to help reach your goals. They can also work with your legal and tax advisors to help create a personalized plan to help incorporate estate and philanthropic goals, cover future health care needs and reduce your taxes—such as helping you decide to keep more of your investment returns or determine if tax-loss harvesting could work for you.
Financial advice can also help you avoid making sudden decisions based on bad timing. Many people have a tendency to pull money out of the stock market when prices are falling and to buy into the market when prices are rising. This can cause investors to overpay for stocks or miss out on buying opportunities in the market.
A Financial Advisor can also give you access to nontraditional investments, such as alternative strategies and private equity solutions. For investors who qualify, these options can provide returns that don't correlate with the broader market, while also helping you manage risk.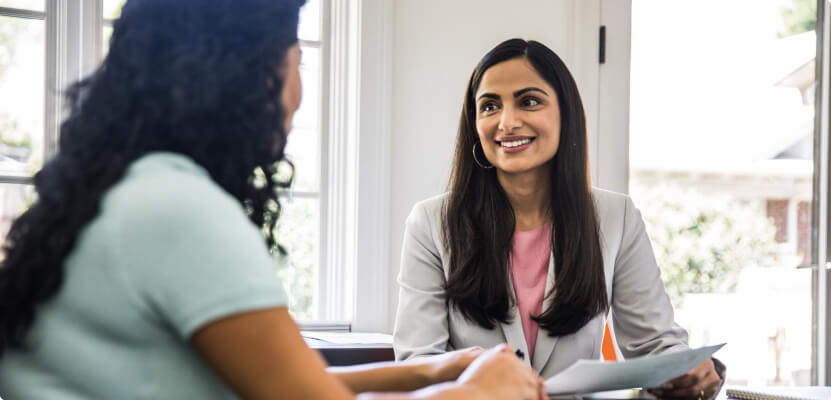 Making the Most of Working with a Financial Advisor
Your Morgan Stanley Financial Advisor has access to market intelligence from the Firm's highly regarded team of analysts, strategists and economists, as well as a full spectrum of comprehensive resources. They can keep you informed with periodic portfolio updates and market commentary to help ensure that your plan is kept up-to-date and reflects your most current goals.
You can meet regularly to talk about important life changes, review your portfolio, discuss evolving priorities and address complex needs such as estate planning and liquidity events. Best of all, working with your Financial Advisor enables you to have someone who understands your desired objectives, while looking out for your financial future.
Disclosures
1 Morgan Stanley Investor Pulse Poll of 1,013 U.S. high net worth investors age 25 to 75, with $100,000 or more in investable household financial assets.
Asset Allocation does not assure a profit or protect against loss in declining financial markets.
Morgan Stanley Smith Barney LLC ("Morgan Stanley"), its affiliates and Morgan Stanley Financial Advisors and Private Wealth Advisors do not provide tax or legal advice. Clients should consult their tax advisor for matters involving taxation and tax planning and their attorney for matters involving trust and estate planning, charitable giving, philanthropic planning and other legal matters.
The investments listed may not be appropriate for all investors. Morgan Stanley Smith Barney LLC recommends that investors independently evaluate particular investments, and encourages investors to seek the advice of a financial advisor. The appropriateness of a particular investment will depend upon an investor's individual circumstances and objectives.
Alternative investments are often speculative and include a high degree of risk. Investors can lose all of a substantial amount of their investment. They may be highly illiquid, can engage in leverage, short-selling and other speculative practices that may increase volatility and the risk of loss, and may be subject to large investment minimums and initial lock-ups. They may involve complex tax structures, tax inefficient investing and delays in distributing important tax information. They may have higher fees and expenses that traditional investments, and such fees and expenses can lower the returns achieved by investors.
Important information about your relationship with your Financial Advisor and Morgan Stanley Smith Barney LLC when using a Financial Planning tool. When your Financial Advisor prepares a Financial Plan, they will be acting in an investment advisory capacity with respect to the delivery of your Financial Plan. To understand the differences between brokerage and advisory relationships, you should consult your Financial Advisor, or review our Understanding Your Brokerage and Investment Advisory Relationships brochure available at https://www.morganstanley.com/wealth relationshipwithms/pdfs/understandingyourrelationship.pdf.
You have sole responsibility for making all investment decisions with respect to the implementation of a Financial Plan. You may implement the Financial Plan at Morgan Stanley Smith Barney LLC or at another firm. If you engage or have engaged Morgan Stanley, it will act as your broker, unless you ask it, in writing, to act as your investment adviser on any particular account.
© 2023 Morgan Stanley Smith Barney LLC. Member SIPC.
CRC 5697598 05/23