TRAVEL
Travel Series: Spotlight on Wellness Travel with Miraval Resorts
---
Wellness travel is booming, and the industry is expected to reach over $1 trillion by 2024, with an annual growth rate of 21% according to The Global Wellness Institute.1 Hotel wellness amenities have become a standard expectation among many travelers.
---
As a result, health-focused resorts with the most esoteric of offerings are popping up everywhere and taking wellness tourism to the next level. The flexibility to work from anywhere in the world, the prioritizing of healthy habits and mental health and the desire for fully immersive experiences in a social setting are all drivers of this trend. "Seven Predictions for the Creative Reimagination of Travel in 2023," a Booking.com article, states that "seeking to re-center the mind, meditation and mindfulness getaways are ever popular with global travelers (44%)...and more than two-fifths (42%) are keen to go on a health hiatus that focuses on mental health, transformative health or that helps with life milestones…"2
Miraval Resorts is a top player in this industry. Their luxurious destinations are designed to help you create a life in balance through mindfulness. All resorts are digital-device-free and combine yoga, meditation and health offerings with spiritual journeys, culinary workshops and outdoor adventures to build resilience and shift perspective.
While the message of mindfulness is the same, each location provides travelers with a unique way to experience well being. Below we break-down the nuances and experiences of each resort.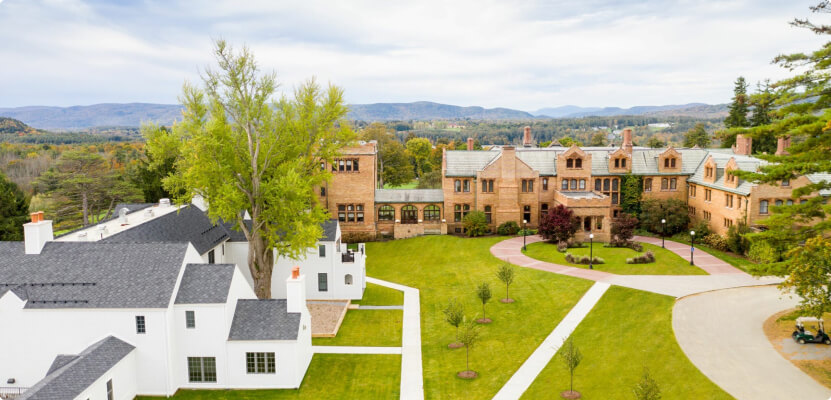 Miraval Berkshires: An Adventure for Every Season
This New England sanctuary perches atop 380 protected acres in the Berkshire countryside. You can rediscover your sense of wonder among pine trees and rolling hills and reimagine a route to wellness. Here, you can stay in step with the changing seasons and the various stages of your life.
Property Orientation
Miraval Berkshires is a labyrinthine journey. It's a maze of indoor interlinking passageways that connects you in time and space, regardless of the weather. Move through a Gilded Age historic mansion to the elegant minimalism of the Life in Balance Spa—then cross over to a separate extension of outdoor adventure at the bucolic Meadowview Acres Farm.
The Forecast
All four seasons means four radically different external experiences each time you visit.

There's no better place to witness autumn's stunning leaf transformation from green to red and gold. Following those crisp apple-cider-sipping firelit nights comes a white blanket of snow. A different kind of flurry covers the thawing hills in spring blossoms. Then summer's sunny splendor hums along to Tanglewood's tones and sends you leaping into the outdoors like a Jacob's Pillow pirouette.
The Flavors
The food here celebrates the Northeast, featuring fresh ingredients from their onsite gardens and hives. Local farms, orchards and dairies produce a cornucopia of ingredients–from Western Massachusetts' first organic market garden to Cape Cod Bay-harvested Patriot oysters.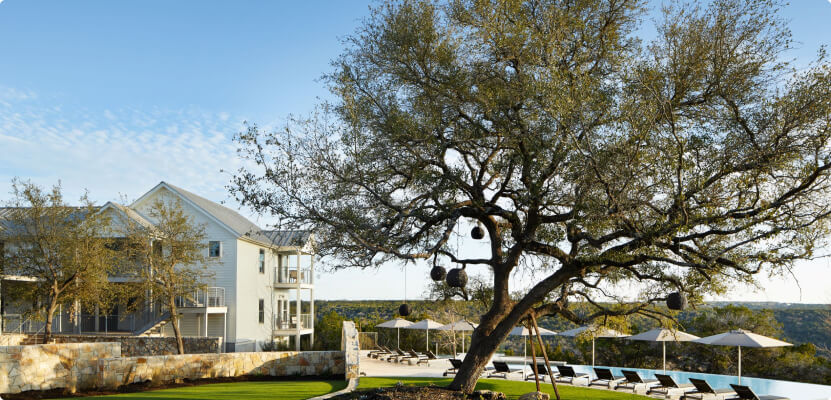 Miraval Austin: Balance with a Texas Twist
Miraval Austin is a 220-acre natural sanctuary overlooking Lake Travis and the tranquil Balcones Canyonlands Preserve. Flowering bluebonnets blanket rolling hills among the lush greens of Texas Hill Country. Juniper trees bloom with bright berries. Cypress Creek's bubbling waters join the farmyard hum of horses, chickens and ducks.
Property Orientation
The Austin property wraps around the Texas Hill Country like a horseshoe with open-air trails and pathways connecting our accommodation coves, Life in Balance Spa, Yoga Barn, pools and more. It switchbacks through hillside trails and the chambers of your heart, set to the soundtrack of songs from local black-capped vireos and golden-cheeked warblers.
The Forecast
The climate is subtropical and humid. That means winters, though cold and windy, are short, and summers are lush and steamy. Partial cloud cover protects you from the full intensity of the sun, and all that moisture in the air can leave your skin dewy and glowing.
The Flavors
Big state, big plates. The food selection here is vast and your portions are as large or small as you choose. Miraval Austin is home to the biodynamic Cypress Creek Farm, the brand's largest, which supplies the kitchens with fresh ingredients year-round, including eggs, produce and honey. The food selections celebrate Austin's distinct tastes (including variations on regional bbq and street tacos) and their executive chef's secret sourdough sensations.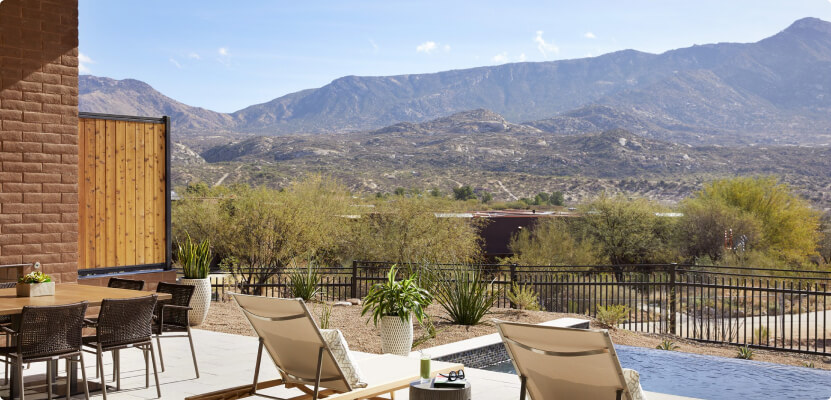 Miraval Arizona: Wellness in the Sonoran Sunshine
At Miraval Arizona, the sun shines 350 days a year on 400 acres of pristine desert. In the Catalinas' warm shade, life balances between desert and mountain in a serene space of discovery and quiet reflection. The flowering desert backs up to majestic mountains. Ancient cacti stand tall. Acacia and mesquite trees lend shade, while brilliant blooms sprout from ocotillo, saguaro and prickly pear.
Property Orientation
Miraval Arizona is all about the sun—the buildings and guest rooms even orient themselves like a radiating orb: circular, sending spokes out from its center like rays of relaxation. The property embraces you in a spiritual ring of desert paths, yellow wildflowers and terracotta trails. The surrounding mountains change color with each sunrise and shield you from the city lights for optimal stargazing under dark skies.
The Forecast
Did we mention 350 days of sun? That doesn't mean there are no seasons; it just makes them more subtle. Winters are mild but require layers, as the desert temperatures can vary by 40 degrees, taking you from polar fleece to tank tops in one day. Summers are hot, and the sun is strong, but as they say in Arizona, it's a dry heat.
The Flavors
Healthy cuisine gets a Southwestern kick as their chefs riff on salsas, tortillas and tamales. Sip on prickly pear tea or margaritas and watch dramatic summer monsoons roll over the foothills. Fresh and local spices and seasonings make every dish delicious.
Wellness travel is an excellent way to unwind and unplug. This approach offers a compelling alternative to jam-packed vacations and itineraries, with a focus on finding balance, slowing down and connecting with yourself. A stay at one of the Miraval Resorts is guaranteed to re-energize and reinvigorate your whole self–mind, body and soul.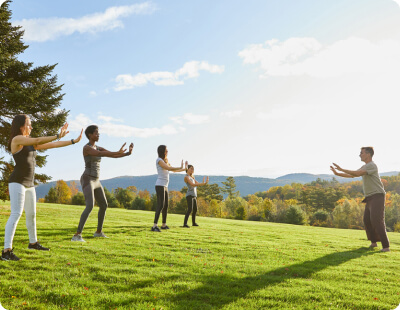 FEATURED OFFER
Miraval Berkshires Resort & Spa
Book a three-night stay at Miraval Berkshires Resort & Spa and receive your third night free, plus a $50 resort credit and a complimentary round of golf.*
CRC 5706508 05/23