TRAVEL
Travel Series: Spotlight on Italy
---
Planning a trip to Italy? In a country renowned for its food, beauty and history, fine-tuning your itinerary can be a challenge. Our guide features tips on the best places to eat, drink, visit and shop from "in the know" locals and some of the country's top fashion designers.
---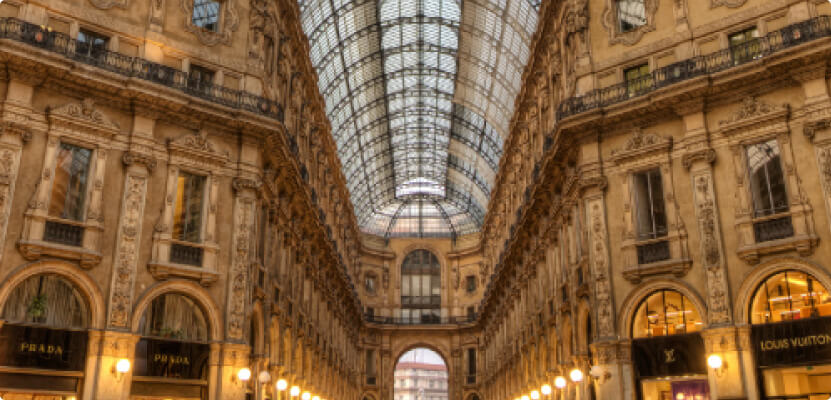 Rome
In the words of fashion designer Antonella Rizza, "Roma is a large cosmopolitan city with an artistic, architectural and cultural history that has greatly influenced the world and dates back almost 3,000 years." There are literally thousands of activities, monuments to visit and places to discover.
For a memorable dining experience, she recommends a candlelit dinner at the Michelin star restaurant, Aroma, located in front of the Colosseum.
For luxury shopping, you can't miss Via Condotti, one of the most iconic shopping streets, which leads right into monuments like the Trinità dei Monti and the Spanish Steps.
For MAHR's designer Monia Furnari, it's Rome's under-the-radar spots that are truly special. She advises imbibing at bars in neighborhoods still inhabited by locals, like Ponte Milvio and Rione Monti, and recommends discovering this magical city by walking through Garbatella, eating pizza behind the Colosseum at sunset, exploring Mercato Testaccio and buying fresh produce at Mercato Esquilino.
Naples
According to Rizza, if you're heading to southern Italy, you'll be spoiled by the breadth of choices. It's impossible to go wrong no matter which direction you head, but the beauty of Naples coupled with its unmatched culinary offerings is certain to please.
In fact, when Peninsula Swimwear's founder Edoardo Pasolini visits, he enjoys a typical Neapolitan "food tour." He always begins with a stop for sfogliatelle in Plebiscito Square, followed by a pizza margherita at the historical pizzeria L'antica Pizzeria Da Michele. For aperitivo, the Italian tradition of pre-dinner drinks and snacks, he recommends heading to the Carracciolo seafront at sunset and getting a drink at Nea, a modern art gallery in Piazza Bellini.
Neapolitan tailoring label Kiton recommends enjoying fresh fish at Da Dora, a restaurant located in the center of Naples. For aperitivo, don't miss Il Pirata, a stunning restaurant in Sant'Angelo, a seaside village in the heart of Ischia, one of the islands of the Neapolitan archipelago.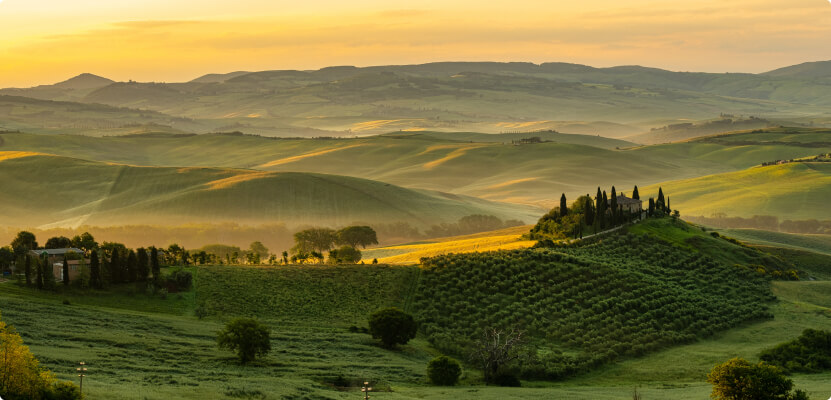 Florence and Tuscany
Florence, the cradle of Italian art, is an obligatory stop when visiting Italy. Rizza recommends exploring the Uffizi Museum, the Basilica of Santa Maria Novella and countless other artistic and historical beauties.
In Florence, luxury shopping is guaranteed—every high-end designer label has a storefront—and afterwards you can enjoy a fancy aperitivo at Le Ménagère and dinner at the scenic restaurant, La Scaletta, where you can dine al fresco on Florence's rooftops.
The countless opportunities to enjoy views overlooking the Arno River are stunning. Make sure to sip a glass of red Montalciano wine at sunset, taking in the splendid panoramic views of historic Florentine buildings.
DROMe's creative director Marianna Rosati's favorite district is Santo Spirito/San Frediano, where you can enjoy an aperitivo outdoors amongst creatives (if you can score a coveted table) and indulge in the abundance of lovely places to eat, all run by local people and curated with love.
Milan
Just an hour and forty minutes by fast train from Florence is Milan, the world capital of fashion and design. For Rizza, Milan is a real modern metropolis. Home to the Italian stock exchange, Milan is a financial center famous for its restaurants and exclusive shops. The Gothic-style Cathedral and the convent of Santa Maria delle Grazie, which houses the fresco "The Last Supper" by Leonardo da Vinci, testify to the artistic and cultural heritage of the city.
In Milan, the aperitivo is an everyday ritual that unites professionals and bankers, designers and students, stylists and artists, and takes place in an endless number of places–from the banks of the Navigli to the Isola district. Some of the most popular places to partake are Ceresio 7 Pools & Restaurant and Radio Rooftop Bar, both trendy yet elegant spots.
Milanese outerwear label Goosetech's designer, Franklin Benjamin Elman, recommends Fioraio Bianchi, The Botanical Club and Deus Café when in town. Eddy Monetti loves a glass of wine at Salumaio di Montenapoleone, housed in the historic Bagatti Valsecchi building or Il Baretto, located inside the Baglioni Hotel Carlton.
As for restaurants, Elman's favorites are Nuova Arena, Antica Trattoria della Pesa, Stravagario Bistrot, GAM Korean Bistrot and Mandarin 2. AMEN's founders love eating at the Giacomo Bistrot and partying at the Volt club.
For Italy's oldest and most storied hat-maker, Borsalino, Milan represents a sentimental web. Every corner is linked to a series of cherished memories. A favorite is one of Milan's oldest parks, the colorful and quaint Guastalla Gardens. Outside the city center, the Isola is definitely worth a visit-it's a historic district that contrasts with the modernity of the Porta Nuova skyscrapers. There, you can enjoy a meal at the Ratanà restaurant, which offers classic yet contemporary Milanese cuisine.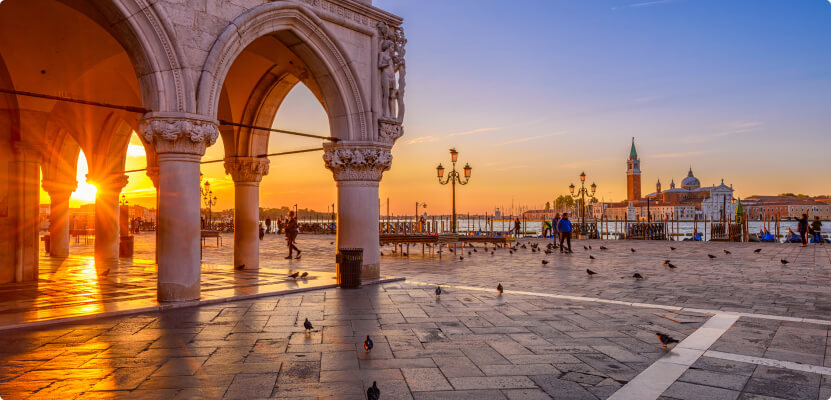 Friuli Venezia Giulia
Are there any parts of Italy that lie beyond the beaten path? Just east of Milan in the Northeast corner of the country is Friuli Venezia Giulia, the Italian region that borders Austria and Slovenia.
According to Le Sûr, makers of traditional Friuliane luxury house slippers, the first stop when visiting the region must be Castello di Buttrio. There you can indulge in a wine tasting at Le Sûr's cellars, enjoy a tour of the vineyards and take a bike ride across the hills, surrounded by the most colorful sunsets. You can then spend the night in the Country House, after a delicious and traditional meal at the Locanda, conveniently located next door. Another must-see in the region is the city of Cividale, a beautiful historical UNESCO World Heritage Site.
Don't miss Trieste, one of the greatest Italian port cities of all times, and be enchanted by the view of Piazza Unità d'Italia while tasting a delicious pied dans l'eau meal at the Dama Bianca in Duino. Last but not least, Udine. Le Sûr's favorite spots in the city are Osteria al Cappello for a traditional aperitivo and Hostaria alla Tavernetta for a cozy dinner.
This guide is full of hidden gems that should have you exploring Italy like an experienced local. But, if you're not leaving the U.S. just yet, don't worry—a visit to italist is like a shopping tour of Italy's best boutiques, but without the jet lag, cost of a plane ticket, or the footwork of going from store to store. Even better? They've already searched for the perfect item at the best prices.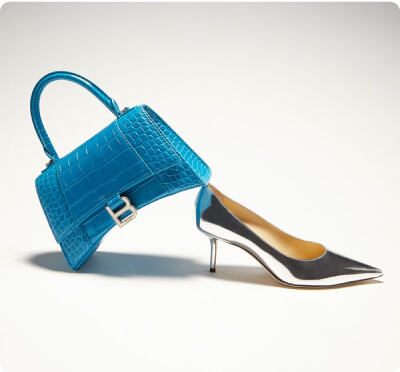 FEATURED OFFER
Italist
Italist offers a large selection of trendy luxury fashion, shoes and accessories from Italian leading brands such as Dolce & Gabbana, Prada and Bottega Veneta at an average discount of 40% from retail prices. Reserved Living & Giving members receive an extra 10% off these already discounted prices.
CRC 5650786 04/23