TRAVEL
Top 5 National Parks to Escape the Crowds
---
While all of America's national parks are truly treasures, they certainly can draw large crowds that may be unappealing during peak seasons. On the flipside, some national parks are so remote that traveling to them could be challenging—like the Gates of the Arctic National Park, which can only be accessed via small planes or the National Park of American Samoa, which requires flying 2,600 miles southwest of Hawaii.
---
Are you looking for a natural destination that's far enough off the beaten path to be light on crowds without leaving civilization completely behind? Read on for our top picks!
1. For Adventure-Seekers: North Cascades National Park
Few parts of the United States offer more breathtaking natural beauty than the Pacific Northwest and the city of Seattle has the distinction of proximity to three of the country's most stunning national parks. While you won't be disappointed with Olympic National Park or Mount Rainier National Park, if you want to enjoy the views with a fraction of the crowds, North Cascades National Park is ideal.
Towering, jagged peaks, lakes in vibrant shades of blue, optimal wildlife viewing opportunities and unmatched stargazing are all hallmarks of this destination. North Cascades has much to offer to adventurous travelers who aren't afraid to blaze their own trail. Camping, boating, fishing and driving the scenic North Cascades Highway are all popular activities.
Where to Stay: While the park is best experienced via a camping or backpacking trip, when you get tired of the tent-and-sleeping-bag life, spend a few nights in the quaint yet comfortable Sun Mountain Lodge in Winthrop, WA.
Pro Tip: Plan ahead! This mountainous region of Washington State is subject to intense weather — highway 20 closes seasonally from approximately November to May and may experience additional closures throughout the year. Don't want to risk the unpredictable mountain drive? Consider staying at the La Quinta Inn & Suites by Wyndham in Burlington, WA, where you'll trade a slightly longer drive for much milder weather.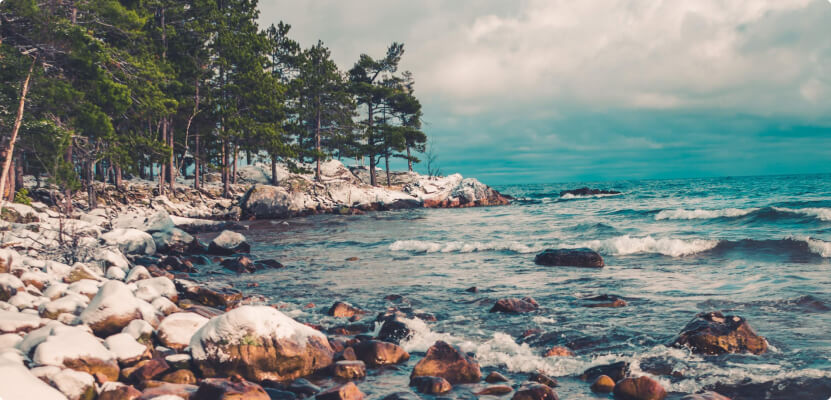 2. For Peace and Quiet: Isle Royale National Park
The least-visited national park in the Lower 48, Isle Royale National Park is as jaw-droppingly beautiful as it is unknown. You can guarantee that you won't find yourself elbow-to-elbow with fellow tourists here, but for good reason—located on an island in Lake Superior, the park can only be accessed via private boat, ferry or seaplane from mainland Michigan or Minnesota.
The ride is part of the adventure, and once you arrive on the island, you'll be quickly rewarded for your efforts. Isle Royale is a paradise for hiking, boating, canoeing and kayaking. Its remote location makes it incredible peaceful and has allowed a sense of true wilderness to remain preserved.
Where to Stay: The island itself offers a few rustic cabins and camping options, but most are first-come, first-served, making it a bit challenging to plan ahead. If you are a planner and prefer to reserve hotel accommodations, we recommend two options. The Best Western Plus Superior Inn in Grand Marais, MN, allows you to reach the park by seaplane or a ferry from Grand Portage, MN. Another option is the Hampton Inn & Suites, a gorgeously remodeled Hilton property in Houghton, MI—be prepared, however, for a significantly longer trip to the park than ferrying from the Minnesota side.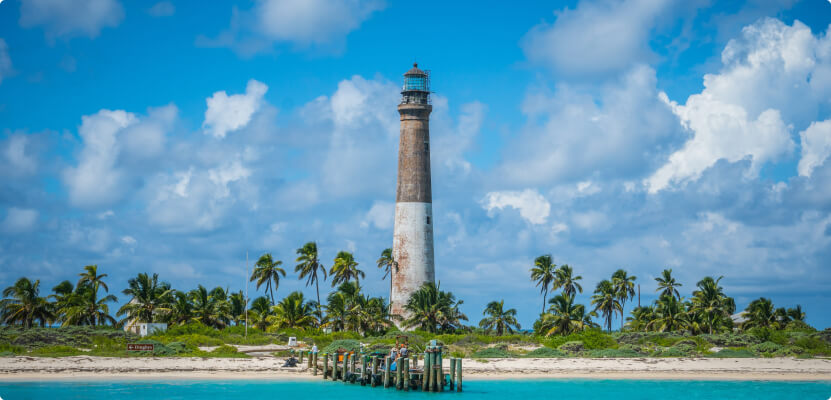 3. For Fun and Sun: Dry Tortugas National Park
For the next stop on our tour of less-crowded national parks, Dry Tortugas National Park is the southernmost U.S. option, located on a small collection of islands about 70 miles from Key West. Whether you're a beach bum, a birder, a history buff, a snorkeler or a scuba diver, Dry Tortugas has something for everyone. This unique national park boasts the well-preserved remains of Fort Jefferson, a Civil War-era structure with a fascinating history. That's surrounded by soft sandy beaches, plus endless miles of pristine waters teeming with marine life.
Where to Stay: The only way to spend the night on the islands is by camping with an advance permit, but the park is easily reached via boat from Key West, where the lively nightlife scene makes for a fun juxtaposition to your time in Dry Tortugas' peace and quiet. We love to stay at the The Reach Key West, Curio Collection by Hilton.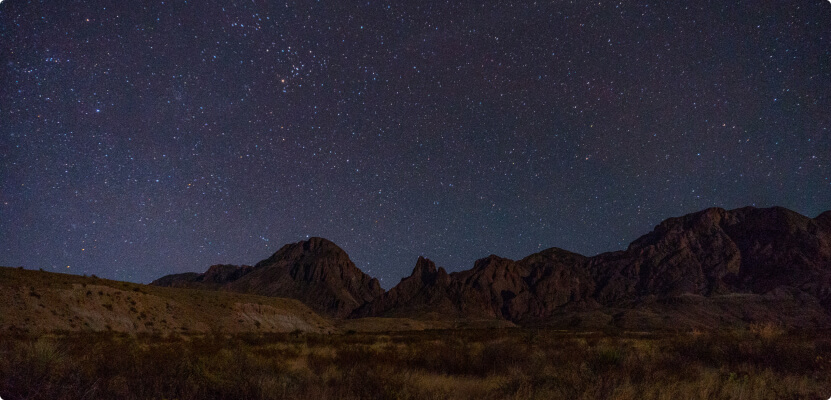 4. For Nature Lovers: Big Bend National Park
If wide-open skies and remote wilderness are calling your name, consider a trip to Big Bend National Park. Located in southwest Texas, Big Bend straddles the border of the U.S. and Mexico, offering a shocking diversity of scenery including awe-inspiring canyons, wildflower-filled meadows and hot springs.
Big Bend is rich in flora and fauna and geological wonders including fossils—plus, stargazers will delight in some of the darkest skies in the country. From challenging, rugged hikes to gorgeous scenic drives, there are so many ways to get out and enjoy Big Bend without the crowds.
Where to Stay: Alpine, TX is technically the closest place to find a hotel, but we'd recommend extending your drive just a bit to spend the night in the quirky, artsy town of Marfa, TX, approximately 1.5 hours away. Stay in the comfortable, well-appointed Hotel Saint George, which is walking distance to Marfa's best restaurants and art galleries. You will have to drive a bit to see Marfa's best-known attraction, the Prada store in the middle of the desert—but don't plan on picking up a handbag, as Prada Marfa is strictly an art installation.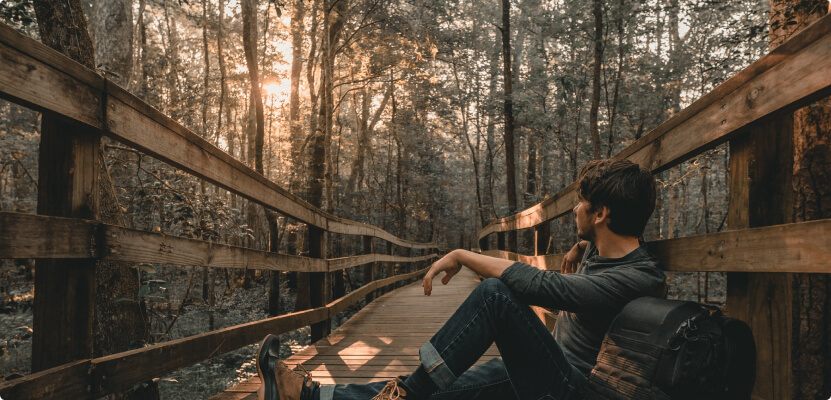 5. For the Birds: Congaree National Park
Our last selection is off the beaten path, yet significantly more accessible than the other parks on our list. Congaree National Park is an expanse of old-growth hardwood forest located near Columbia, SC. Here in the floodplains west of South Carolina's Atlantic coast, you'll find an incredible ecosystem of lakes, creeks and swamps.
A birder's paradise, Congaree is home to a long list of avian species ranging from hawks to herons. Visitors also enjoy traversing the boardwalk paths through the forest, kayaking or canoeing the extensive waterways and hiking the woodland trails.
Where to Stay: A visit to Congaree offers the bonus opportunity of spending time in buzzy Columbia, SC, the state capital and a college town rich in culture, history and excellent restaurants. Stay at Aloft Columbia Downtown, a Marriott Hotel, which offers ultra-modern digs, top-notch cocktails and live music at the on-site bar.
Plan Your Next Adventure
Whether you're looking for a taste of wilderness, an urban escape or a luxurious treat, a visit to the U.S. National Parks is certain to be an unforgettable adventure.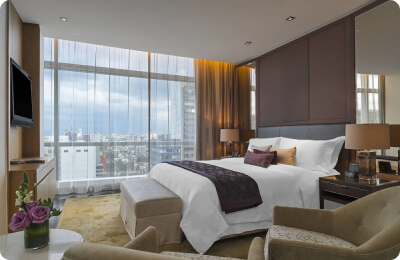 FEATURED OFFER
Hotel Engine
Receive up to 60% off lodging at more than 700,000 hotels around the globe from Marriott, Hilton, Holiday Inn and more.
CRC 5722625 06/23