LIFESTYLE
A Conversation on Purpose, Passion and Pickleball
A conversation with
Julia Yue
Head of Ultra High Net Worth
Business Development, Morgan
Stanley Private Wealth Management
Betty Ng
Founder and CEO, Inspiring Diversity;
PPR Certified Pickleball Coach
---
A conversation between Julia Yue, Head of Ultra High Net Worth Business Development within Morgan Stanley Private Wealth Management, and Betty Ng, former finance leader and founder and CEO of Inspiring Diversity, came naturally.
---
Julia and Betty were introduced by Wendy Cohen, Head of Reserved Living & Giving, who recognized that both shared similar experiences of being accomplished working moms, while navigating the challenges and successes of being Asian American women in finance. Their commitment to wellness, diversity and inclusion translated into their work with women-focused employee networks, Julia as the co-chair of Morgan Stanley's Women in Wealth and Betty as the co-chair of the Women's Employee Resource Group while at Moody's. They also serve as members of the Asian American Business Development Center, an organization whose mission is to promote greater recognition of the contributions made by Asian American businesses and Asian American individuals to the general economy. But that's not all they share. Betty and Julia both enjoy staying active. Julia through her love of the outdoors and bicycling, and Betty through her enthusiasm for pickleball—a sport she believes can teach us valuable lessons about diversity, inclusion and teamwork.
At Morgan Stanley, committing to diversity and inclusion is at the core of what we do. In celebration of AAPI month, Julia Yue interviewed Betty NG to hear her perspective as an Asian American leader.
Julia Yue: Tell us a bit about your background. You started your career in the corporate world then ventured into work revolving around Diversity & Inclusion. What moved you to make this transition and start Inspiring Diversity?
Betty Ng: As a young child, I grew up in New York City's Chinatown with little exposure to people outside of my Chinese American community. As I got older, I committed to building relationships with people of diverse backgrounds and to living, working and traveling throughout the world. Over twenty years, I rose up the ranks to become a senior executive, with my share of challenges as well as successes as a woman of color. In my last corporate role, my "day job" was focused on leading mergers and acquisitions in Europe, Asia, Latin America, Canada and the US, while my "night job" was in diversity and inclusion. My work as the co-chair of the Women's Employee Resource Group and founder of an Asian Leadership Initiative catalyzed my commitment to developing solutions that I felt should have always existed to empower authenticity and to embed conscious inclusion into cultural DNA. That is what led to the founding of Inspiring Diversity, LLC (iD) almost seven years ago.
How does this tie into your Asian American heritage?
In recent years, I've come to realize that my journey to founding and running iD has been one "From Pain to Purpose and Promise". My Asian American identity has been pivotal to shaping that journey. My own pain both as a victim of anti-Asian hate crimes and as someone who faced challenges as an Asian American woman in the workplace has helped me to define my purpose, which is to build inclusive and high performing cultures. With that purpose, I have focused on developing and providing the "promise"–a roadmap and related solutions for measurable and sustainable impact with respect to fostering a culture of diversity, equity, inclusion and belonging (DEIB).
I leverage my Asian American identity every day as my superpower in all aspects of my work and life.
– Betty Ng
Who are some of your Asian American role models?
I have many Asian American role models as my interests are extremely varied and there are so many talented Asian Americans I admire. Indra Nooyi (former Chair and CEO of Pepsico) is my favorite role model for corporate leadership. Naomi Osaka (tennis champion) is my role model for athleticism as well as for her authenticity and commitment to prioritizing her mental health. Vice President Kamala Harris is my role model for continuing to pave the way in political leadership. I deeply admire Simu Liu (actor from Canada, but part of the Americas!) for following his dream of acting instead of remaining in a profession that was not in alignment with his vision for himself.
Beyond these famous persons, many of my Asian American role models are not as well-known. The most important role model in my life has been my mother, Po-Ling Ng, who was widowed at the age of 32 and left with four young children to raise on a social worker's salary. My mother is among the most successful people I know because of her positive impact on countless lives, which is why she has been honored among the "50 Over 50 Who Make New York Great".
What inspired you to start writing books and start the Asian American Authors Book Club?
My mother, Po-Ling Ng, inspired me to become an author. As I wrote my acceptance speech for a Corporate Trailblazer Award I received in 2015, I thought long and hard about who I am and how I got to where I am. All roads led back to my mom, and I realized that every letter of her name, Po-Ling, represents an important consideration for what it means to propel your authentic self and others to success. From there, we developed the PO-LING POWER framework, which is a decision, evaluation and measurement tool for propelling yourself and others to success while managing what matters. I wanted to honor my mother and became determined to co-author a book with her to share our respective life journeys as Asian American women leaders along with our framework for success and impact, however, personally defined. It was important to both of us to help raise the visibility of Asian women as leaders.
As for the Asian American Author's Book Club, I give full credit to Savio Chan for being the one to come up with the idea. I thank him for including me as a co-founder and for all he does to elevate the Asian American community.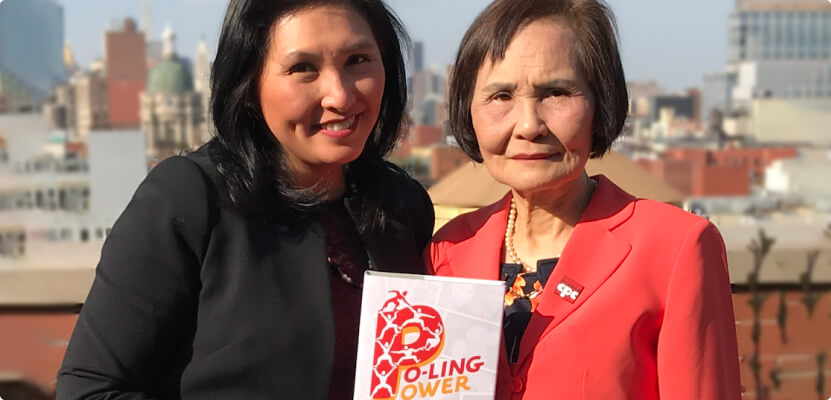 Why is promoting and elevating the stories of Asian American authors important to you?
Promoting and elevating the stories of Asian American authors is important to me for several reasons: 1) the sharing of our diverse and authentic stories as well as perspectives helps us to be better understood…beyond the monolithic and unfair stereotypes propagated by other media, which contribute to negative outcomes such as anti-Asian hate; 2) helping Asian American authors be successful helps to showcase to publishers the value of further promoting the stories and work of Asian American authors; and 3) you can't be what you can't see—so raising the visibility of Asian American authors will help encourage other Asian Americans to become authors and to share their perspectives as well as journeys.
Who are some of your favorite Asian American authors? Any book(s) you are currently reading or that you recommend?
Some of my favorite Asian American authors include Amy Tan, Indra Nooyi, Qian Julie Wang and Reshma Saujani. I would also include my children, Moorea and Jasper Friedmann, on my list of favorite Asian American authors!
I would highly recommend My Life In Full (Indra Nooyi) and Beautiful Country (Qian Julie Wang). I am currently reading Rupal Patel's international bestseller, From CIA to CEO: Unconventional Life Lessons for Thinking Bigger, Leading Better, and Being Bolder.
You also ventured into children's books with your own children. How did this come about? How do you use this to pass on your values to children?
When I was writing PO-LING POWER: Propelling Yourself and Others to Success with my mother, I decided to share the PO-LING principles with my young children. As I explained the principles to them, my daughter Moorea (who was nine years old at the time) said, "Mommy, I love the PO-LING principles, but I honestly don't think any kid is going to want to read your book!" While her words admittedly stung, she was right and she brilliantly followed up with, "But who doesn't love animal stories? Let's write animal stories based on the PO-LING principles!" That was the genesis of our Penguins and Pals bestselling books and resources to help children embrace social-emotional learning grounded in diversity and inclusion. Through our work together as a family, we have focused on being mindful of sharing what we believe are key A-to-Z behaviors for global citizenship.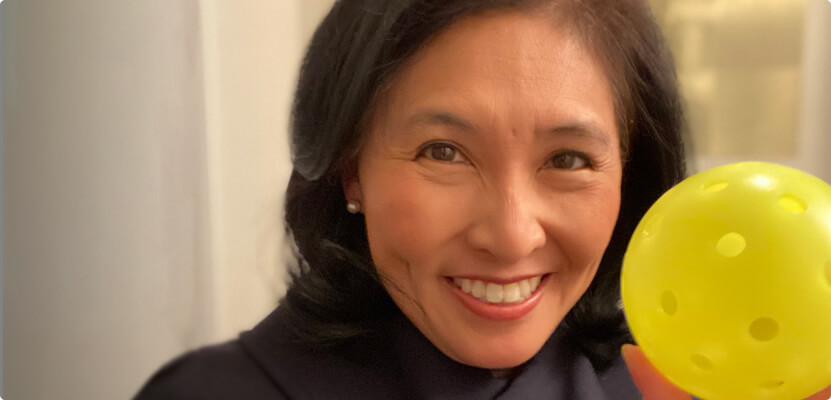 What do you like to do in your free time? Tell us a bit about your love for pickleball. What about the sport is so great?
Participation in sports is fantastic for your physical, mental, social and emotional wellness. In addition to traveling and SCUBA diving, I play as much pickleball as possible in my free time. I consider pickleball to be my first real sport as it has brought out the inner athlete in me, a part of my authentic self which had been latent all these years! Since I started playing pickleball regularly about a year and a half ago, I am happier and healthier. I even got my certification and am now a PPR Certified Pickleball Coach. This helps me to be more energetic, positive and effective in many aspects of my life. Pickleball is known to be a very inclusive sport, as people of all ages, sizes, abilities and backgrounds play pickleball. It is also a very social game that is primarily played as doubles, where you are encouraged to play with new partners when possible.
Through pickleball, I have expanded my network substantially and have developed meaningful relationships with people I would not have otherwise met. It's a fun sport that promotes mindfulness around diversity, inclusion and teamwork.
– Betty Ng
This has inspired our latest initiative, Pickleball Positive, which focuses on how microlessons from pickleball translate into the A to Z of how we all play, work, and live well together.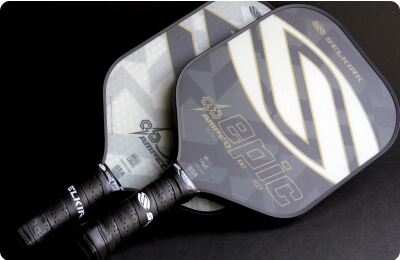 FEATURED OFFER
Selkirk Pickleball Equipment
Save over $65 when you purchase two AMPED paddles of your choice.
Disclosures
This material has been prepared for informational purposes only.
Betty NG is neither an employee nor affiliated with Morgan Stanley Smith Barney LLC. Opinions expressed by the guest speaker are solely her own and do not necessarily reflect those of Morgan Stanley Smith Barney LLC.
The authored books discussed in this material do not constitute an endorsement, authorization, sponsorship by or affiliation with Morgan Stanley. Morgan Stanley has not reviewed the books for approval and is not responsible for the information contained therein.
Morgan Stanley Smith Barney LLC is not implying an affiliation, sponsorship, endorsement with/of the third party or that any monitoring is being done by Morgan Stanley Smith Barney LLC ("Morgan Stanley") of any information contained within the website. Morgan Stanley is not responsible for the information contained on the third party website or the use of or inability to use such site. Nor do we guarantee their accuracy or completeness.
© 2023 Morgan Stanley Smith Barney LLC. Member SIPC.
CRC 5672482 05/23