LIFESTYLE
Four Ways to Live More Sustainably
---
The definition of living a more sustainable lifestyle differs for everyone. Wanting to reduce your ecological footprint, make an impact on the world or give back to others are personal and value-based preferences that can be applied through a large range of choices and decisions.
If you've been contemplating adjusting your lifestyle, but don't know where to start or what steps to take, here are some ideas:
---
Make Small Changes to Your Daily Routine
Being mindful about living a sustainable life doesn't have to be an all or nothing approach. Incorporating small, manageable changes within your daily routine can have a big impact on our planet. At home, you can try to utilize energy and water in a more efficient manner. Some examples include turning off your lights when you leave the house, using LED bulbs, placing the thermostat on a timer, or even opting to line-dry your clothes instead of running the dryer. Want to take it further? Bigger measures such as installing solar panels or redesigning your landscape so that it's not so water dependent would benefit the environment (and your finances!) even more.
When it comes to food, changing the way you eat can go a long way in helping with conservation efforts. Eating organic encourages farming without chemicals or pesticides, and requires animals to also be fed organic food and raised in more natural conditions. Stopping by the farmers market to support local growers or even planting a small variety of fruits and vegetables in your own backyard are sustainable practices that are easy to implement. Bring it full circle by creating a compost bin at home and using garbage to help your new garden grow.
Reducing your own carbon footprint may be easier than you think. There are a range of approaches you can take, including in your investment portfolio.
– Emily Thomas, CFA
Head of Investing with Impact, Morgan Stanley
Adopt Eco-Friendly Travel Habits
Here are some ways to approach travel in a way that is more friendly to the environment. Consider alternate methods of transportation such as carpooling with neighbors, biking or utilizing electric vehicles (EVs). Some states will even provide incentives for EVs, such as with rebates or the unrestricted use of HOV lanes. Audi and Volvo are two legacy automakers that have focused on creating a line of electric and hybrid vehicles.
You can put a "green" spin on your travels by staying at sustainable hotels. There are options aplenty, from hotels that put forth smaller eco-friendly efforts, like low-flush toilets and refillable water stations, to hotels that focus on eco-friendly initiatives to the highest degree, like relying on solar panels for energy and implementing on-site composting programs.
Non-Traditional Shopping
Instead of buying new, think about reusing and recycling old items. This can be done by "shopping your closet" to repurpose old clothes, checking out second-hand shops and apps, or searching online through Facebook swap groups. When you do want to shop for something new, make a conscious effort to support sustainable companies that have a giving-back component like Matriarca. For more ideas on companies that offer socially conscious products, visit our Gifts for Good guide, curated by the Morgan Stanley Philanthropy Management Team.
For a more sustainable approach to the holiday season, focus on gifting subscription, memberships and experiences instead of purchasing more "things". A stay at a wellness resort like Canyon Ranch, a golf swing evaluation and lesson with Golftec, or tickets to a Broadway show are unique gift options that are bound to make a lasting impression.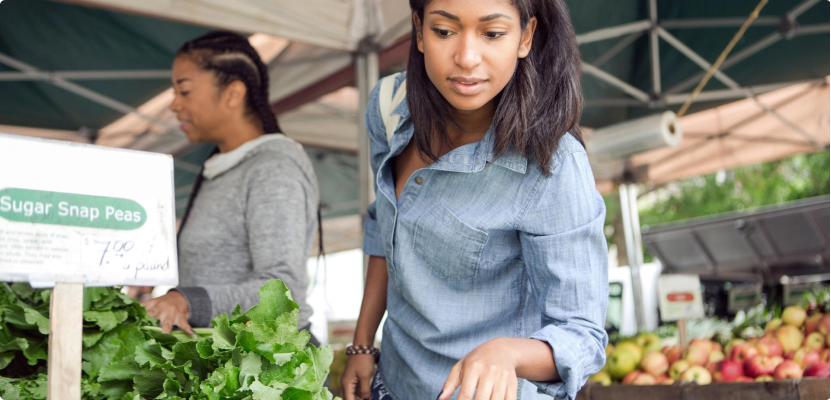 Invest with Impact
You can make smart investment decisions while creating positive change in the world with impact investing. As Emily Thomas, CFA, Head of Investing with Impact at Morgan Stanley says, "Creating a green portfolio is not simple, but it can be rewarding. The most important step is the first one—deciding to take action."
This approach focuses on aligning your portfolio allocation with your personal values through investments that demonstrate positive environmental and/or social impact. There are several sustainable investment products available, covering different asset classes and themes. Depending on your investor profile - age, risk tolerance, time horizon - you can find an approach that best suits you, from Environmental, Social, and Governance (ESG) aware mutual funds and thematic exchange-traded funds (ETFs) to green bonds and fully customized portfolios.
Disclosure:
The returns on a portfolio consisting primarily of Environmental, Social and Governance ("ESG") aware investments may be lower or higher than a portfolio that is more diversified or where decisions are based solely on investment considerations. Because ESG criteria exclude some investments, investors may not be able to take advantage of the same opportunities or market trends as investors that do not use such criteria. Diversification does not guarantee a profit or protect against loss in a declining financial market.
Please note that there is currently no standard definition of green bond. Without limiting any of the statements contained herein, Morgan Stanley makes no representation or warranty as to whether this bond constitutes a green bond or conforms to investor expectations or objectives for investing in green bonds. For information on characteristics of the bond, use of proceeds, a description of applicable project(s), and/or any other relevant information about the bond, please reference the offering documents for the bond.
CRC 5074607 11/22