PERSONAL FINANCE
Championing Diversity with Alex and Maia Shibutani
Moderated by:
Valerie Wong Fountain
Managing Director and Head of Family Office
Resources Platform and Partner
Management at Morgan Stanley
Featuring:
Alex Shibutani and Maia Shibutani
Olympic Medalists, Ice Dancers and Authors
---
For anyone familiar with Alex and Maia Shibutani's skating career, the first word that comes to mind might simply be: Amazing. The duo are two-time Olympic medalists, three-time World medalists, and two-time U.S. national champions, just to name a few of their accomplishments. But for the Shibutani siblings, the next chapter of their careers focuses not only on their outstanding stories but also on those of others.
---
In partnership with Morgan Stanley's Asian Employee Network (AEN) and in celebration of Asian American and Pacific Islander (AAPI) Heritage Month, Valerie Wong Fountain, Managing Director and Head of Family Office Resources Platform and Partner Management at Morgan Stanley, sat down with Alex and Maia to discuss the importance of their new children's book: Amazing: Asian Americans and Pacific Islanders Who Inspire Us All. Julie Chung, AEN Co-Chair, delivered opening remarks, and thanks to the generosity of AEN, all participants received a copy of the book – in-person attendees were lucky enough to receive a signed copy!
Motivation and Medals
Though Maia and Alex both started skating at a young age, they didn't start skating as a team until they were ages 9 and 12 (contrary to popular belief, they are not twins). Their success took dedication and hard work, but their equal partnership and genuine enjoyment in spending time together kept them committed while they moved homes, woke up at early hours, and went to nontraditional school to accommodate their training.
While they had each other to lean on, they were singular within their sport. "We didn't have direct role models in ice dance," Alex noted, so the partners paved the way for themselves. In 2018, they became the first ice dancers of Asian descent and the first non-white team to medal at the Winter Olympics.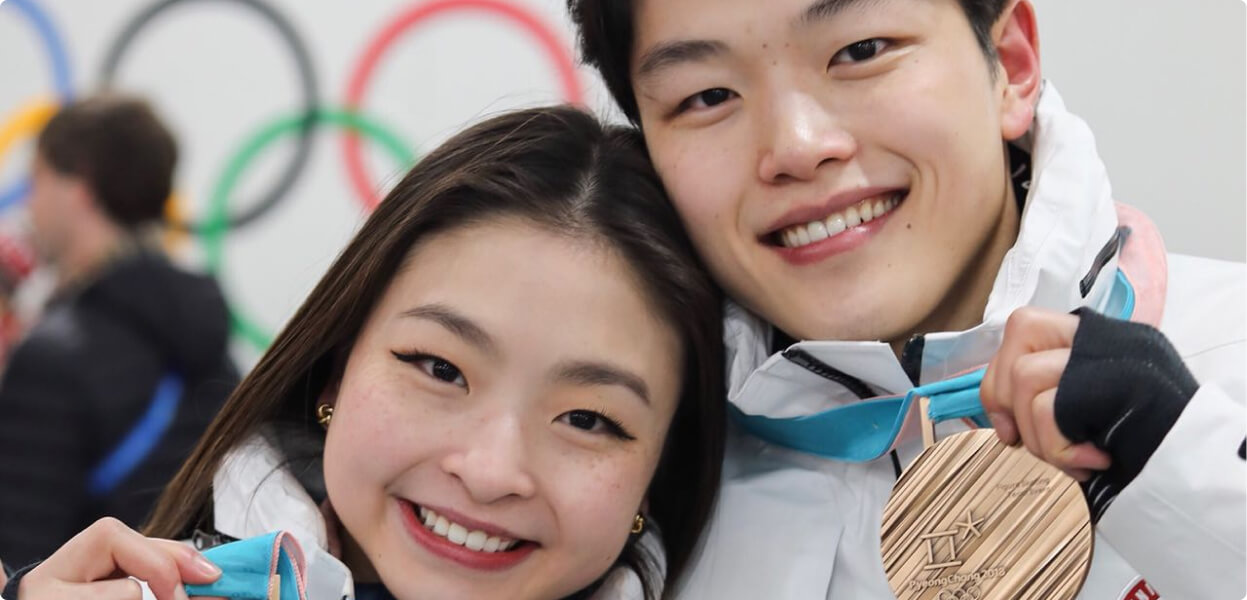 The Story Continues
As ice dancers, The Shibutanis are not just Olympic athletes but storytellers – and they decided to harness this talent through another medium. "After the Olympics, we wanted to see how our storytelling would translate to real life," Maia noted. The Shibutanis had already broken new ground on the ice, so they decided to take on representation in media, too.
Amazing tells the story of 36 Asian American and Pacific Islanders who are just that: amazing. They are not all athletes – the book features entertainers, chefs, activists, and other accomplished individuals in the AAPI community. There are some names that many of us would recognize – Kamala Harris and Dwayne "The Rock" Johnson, for example – but there are also less-discussed figures, such as Alice Wong, founder of the Disability Visibility Project, and women's suffrage activist Dr. Mabel Ping-Hua Lee. Maia explained the importance of having all these individuals in the same book: "Who decides whose story gets to be told? Whose story is important?"
Through telling these stories, Maia and Alex are playing a vital role. Despite the 36 incredible stories in Amazing, and the thousands that remain untold, the 2023 Index Report found that 26% of Americans are unable to name a single famous Asian American. By learning about these figures within the same pages, readers will become familiar with the many significant accomplishments of the AAPI community throughout history, not just the ones that are recognized in mainstream media. "The power of books is that you get to step into other peoples' shoes," Maia observed.
Notably, the Shibutanis themselves are not featured in Amazing. "True advocacy and allyship is not where you center yourself," Alex noted. Maia added, "If by removing ourselves we can include two more amazing stories, then that is what we are going to do."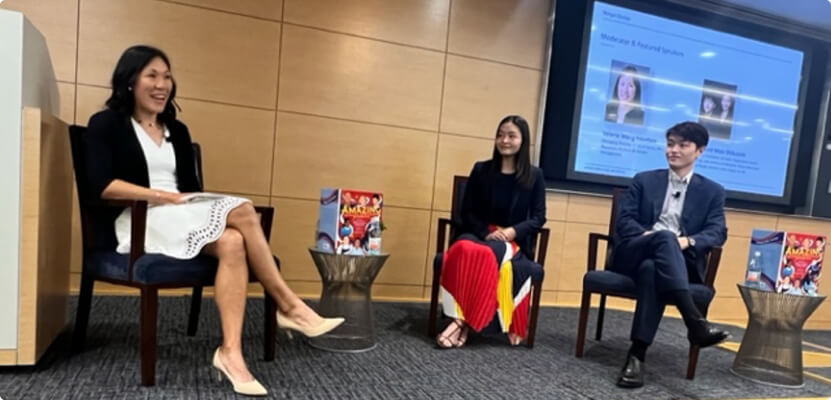 Building Community and Continuity
While they knew it was important to highlight AAPI leaders, Maia and Alex could not have predicted the overwhelming response that the book has gotten so far. "We didn't expect it to be so revolutionary, but we are hoping to 'show up' to nurture the future," Maia noted.
And show up they did – at the end of their conversation with Valerie, Maia and Alex stayed for over an hour to speak and take photos with the long line of attendees waiting to meet them, further extending their time to educate and make an impact.
In addition to their, well, amazing book, Alex and Maia have many other commitments to their community. The siblings were recruited by the U.S. State Department to be sports envoys, making them "representatives of their country not just through sport but diplomacy," Alex noted. Alex's first conversation with Valerie began through another community engagement – at the gala for Gold House, the leading nonprofit collective of Asian & Pacific Islander (API) founders, creative voices and leaders.
Spread the Word
So, what can we all do to advocate? The Shibutanis have some suggestions:
Show up at events like this one to hear about experiences and stories.
Share the book – with a friend, a group, or your community, like your child's school or local library.
Speak up! Leave a review (on Amazon, Goodreads, or another public forum) to let others know that the book lived up to its promising title.
View a replay of the event here if you missed it or just want to relive the conversation.
Disclosures
The guest speakers are neither an employee nor affiliated with Morgan Stanley Smith Barney LLC. Opinions expressed by the guest speakers are solely his and her own and do not necessarily reflect those of Morgan Stanley Smith Barney LLC.
The authored books discussed/shown in this material do not constitute an endorsement, authorization, sponsorship by or affiliation with Morgan Stanley. Morgan Stanley has not reviewed the books for approval and is not responsible for the information contained therein.
© 2023 Morgan Stanley Smith Barney LLC. Member SIPC.
CRC 5782817 07/23